Overview
What is Anyword?
The expensive hiring of human copywriters is substituted by an AI copywriting tool. It helps to create content within a few seconds and is also affordable. Anyword has the best AI copywriting tools that amp up your marketing campaigns to your target audience. The content creation process on Anyword is super simple. The AI writing assistant can write blog posts, SEO meta descriptions, social media posts, product descriptions, social media ads, and high-converting copy.

You can create content for your email marketing campaigns for multiple websites and save money. The copywriting software gets the best rank in search engines with relevant keywords. Moreover, Anyword supports 30 languages which means you can convey your brand voice in your regional language. Machine learning stands at the core of Anyword AI copywriting tool, and the Natural Language Processing model provides exposure in the online world.
Who is This Product For?
If you are running a small business, writing product descriptions may seem tedious work. Hiring expert human copywriters can be over your budget. Thus Anyword AI copywriting tool is the one-stop solution for all your high-quality content marketing. Anyword is appropriate for individuals and also large enterprises.
The three tiers on the pricing page open doors to all. Before you commit to a paid plan, you can try out the free plan. As one of the best AI copywriting tools, reputable companies like PetCareRx, Ted Baker London, Red Bull, and Condé Nast use Anyword. Marketers, entrepreneurs, writers, and agencies use Anyword for the following.
– Facebook ads
– Google search ads
– Linkedin ads
– Twitter ads
– Taboola / Outbrain
– Instagram captions
– Youtube titles
– Youtube descriptions
– Tweets
– Email subject line
– Headlines
– Product descriptions
– Product names
– Intro paragraphs
– CTAs
– Blog post titles
– Blog post outlines
– Verizon native ads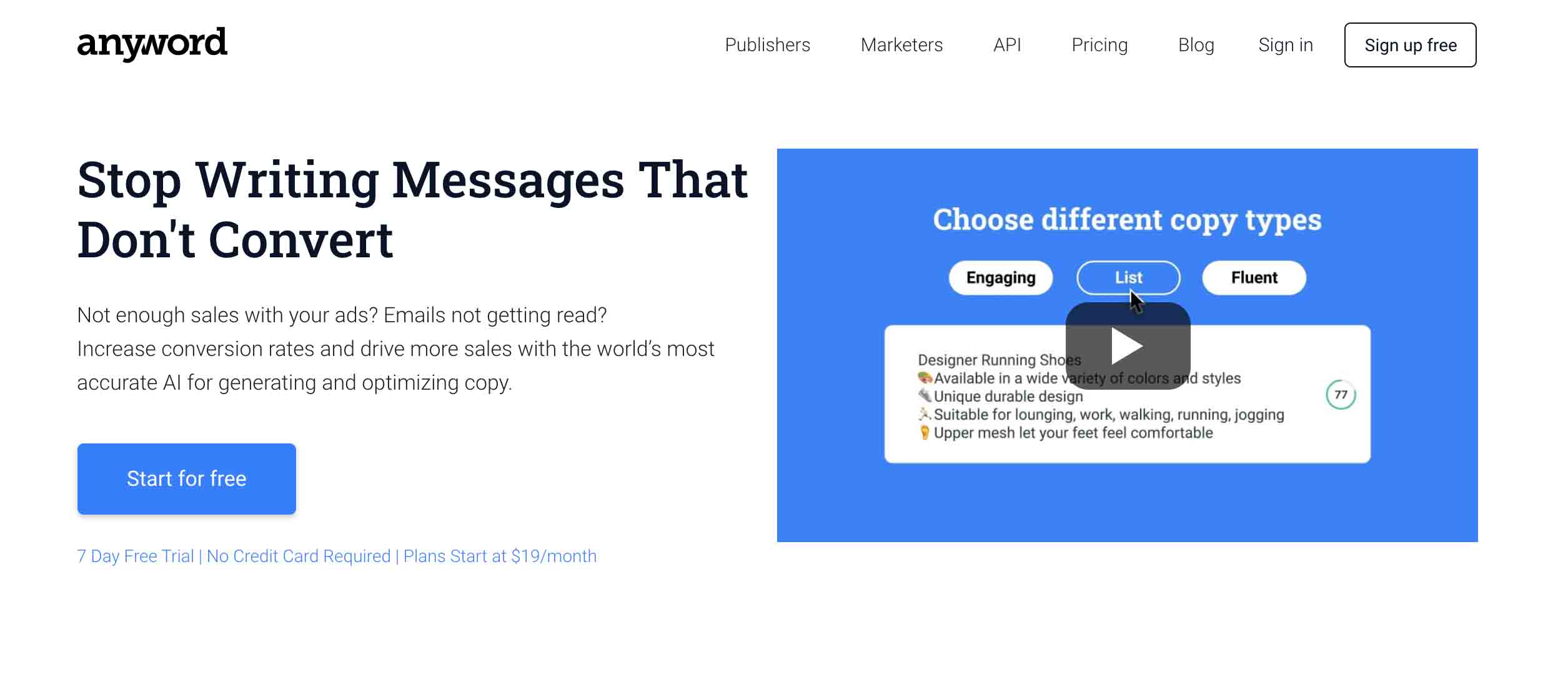 Features
Social Post Generator
Anyword AI copywriting tools leave no stone unturned when creating perfect social media posts. The Anyword AI copywriting tools can generate social media captions, brand descriptions of social media posts, and any social media content to keep your audiences engaged. Anyword machine learning pulls out its best cards to produce top-notch social posts.
The value of original and cutting-edge content is now more essential in the digital world, where trends and habits are changing. Because of this, content writers and composition specialists are flocking to Anyword AI social post tools for assistance.
All of us experience writer's block at least once in a lifetime. However, you can generate posts for Facebook, Instagram, LinkedIn, and much more in half the time with the help of an AI writer. The Anyword AI social post generator is the solution you have been seeking, whether you need to update your current social content, are stranded, or need fresh ideas.
Ad Copy Generator
Ad copies are the source of the correct information and the brand voice. All ad accounts on Google Ads, Facebook Ads, and many more capture their target audience. AI copywriting tools can give a push to your Ad copy. Be it marketing copy, website copy, or other copy variations, Anyword AI copywriting tools are a gem for businesses.
Content marketing is blind without a great copy. Thus visit Anyword and write a copy of your choice without any fuss. The AI copywriting software is user-friendly, provides good ideas, and turns time-consuming projects into a minimal input and maximum output model. The advanced features of Anyword AI also create plagiarism-free smart copy that goes through the fact-checking writing process.
In comparison to other AI copywriters or human writers, Anyword AI copywriting tools can rewrite copy and generate copy variations. Relevant content marketing projects get blended with creative ideas making Anyword AI-powered tool a fabulous choice.
Instagram Caption Generator
Anyword eases your day with the Instagram Caption Generator. Instagram is a saturated platform, and to make your caption concise yet engaging is needed. The AI-generated content from Anyword facilitates Instagram captions as well. Like high-quality articles, you will get a well-written caption that suits your Instagram posts.
Among the Anyword AI copywriting tools, the Instagram caption generator is a popular choice. Many competitors of Anyword have not mentioned the presence or benefit of this great tool. If you are running a business and want to captivate your customer, Anyword AI copywriting tools provide the best short-form or long-form content.
Facebook Post Generator
If you have nailed the blog outlines but are fidgeting about what to embark on the Facebook blog posts, the Anyword Facebook Post generator is all you need. It is one of the new AI tools that has taken the AI copywriting world by storm. Short-form and long-form blogs are generated, keeping the needs and want of customers in mind.
Facebook has been a platform for businesses to promote their products and services. The AI writing assistant can help companies save time and money while creating quality content. The Anyword AI-powered text generator creates posts with high engagement rates.
Sentence Rewriter
Anyword Sentence Rewriter is a free online sentence rewriter tool that can help you to rephrase sentences in multiple languages. This sentence rewriter tool is easy-to-use. All you need to do is copy and paste the text into the box and press the button called Rewrite. The content gets rewritten with synonyms, word replacements, and better sentence structure.
The Sentence Rewriter tool is a new artificial intelligence (AI) product from Anyword that turns your content into one-sentence paragraphs. This sentence rewriter tool will help you turn your content into concise and informative sentences. You can use it for various purposes as:
– Generating high-quality content for blogs, articles, and other web pages.
– Improving the readability of your content with short sentences.
– Increasing the engagement of readers by generating more readable sentences.
– Make your writing more SEO-friendly by improving keyword density.
AI Writer Tool
Anyword AI writing tool is for both individuals and organizations. Individuals can use it to generate content for their blogs, websites, and social media accounts. Organizations can use Anyword to generate content for their clients.
With Anyword AI Writer Tool, you can create content in 30 languages. It provides you with various topics and templates. You can also set your preferences according to the type of content or the subject you want to write. The Anyword AI Writer Tool will then automatically generate your content for you by using its database of words and phrases that are relevant to the topic or template that you have chosen.
Meta Description
The Anyword AI Meta Description is an automated generator for SEO meta descriptions. It provides meta descriptions for any word or phrase-from the mundane to the extraordinary. Every article has a meta description, which is the summary of the article that appears on search engine results pages. It is a compelling and accurate meta description because it can affect how many visitors click through to your content.
Meta descriptions are salient for SEO because they are one of the factors that determine whether a web page will show up in the search engine result pages. They are also for search engines to generate snippets and show up on SERPs. Meta descriptions should be concise and informative. In addition, they should have keywords. They should also be unique and not blocked by other meta tags like meta keywords or meta robots. Anyword keeps the fine details in account and provides a customized meta description.
Landing Page
A landing page is a webpage that appears on the browser after clicking on an advertisement, search engine result, or other links from a website. It is the first thing customers see when they click on an advertisement or link. It is to convince the visitor to take the desired action. The primary goal of a landing page is usually to get visitors to take action, such as signing up for an email list, purchasing a product or service, filling out a form with contact information, and so forth.
The Anyword AI writing software can create landing pages in seconds. It is a powerful tool that can help with content creation. Anyword is revolutionizing the way copywriting is done today. With Anyword AI tools, copywriters can put their skills to use efficiently and focus on what they are best at-creativity and emotions.
Blog Post
The use of Anyword AI has been rising in the past few months. It is to automate many tasks and make your lives easier. One such is writing blog posts. Blogs are for companies to showcase their expertise in a field and generate leads for their business. However, this can be both time-consuming and expensive in content marketing.
Companies have been using Anyword AI to generate blog posts they can publish on their website or social media channels. It saves time and helps them save money in the long run as they do not need to hire a copywriter or content writer anymore.
Email
The AI-generated email is a new type of marketing content by an AI system. It is to create personalized emails with targeted content and dynamic messages. The benefit of using these types of emails is that they are more relevant to the reader and easier to understand the message.
Anyword AI can also generate perfect cold emails for you. It is by marketers, sales professionals, and recruiters to personalize cold emails.
The tool generates the email content based on the information provided by the user. For example, if you need to send an email to someone in your industry, you just input their name and Anyword AI will create a personalized email for you. It has a library of pre-written templates that it uses to generate different types of messages.
Product Descriptions
Product descriptions are one of the most important parts of online shopping. They need to be informative and engaging at the same time. This is why it is not an easy task for any human writer to do. This is where Anyword AI comes in handy. Anyword AI automatically generates product descriptions based on the content that you provide it with and your preferences .
If you have a few product descriptions that are close to the same, the Anyword machine learning algorithm will create a unique description for each product. All you need to do is put in the text of one or more of the products into the system and it will start writing. The software can generate descriptions for products, services, events and any other type of content that needs to be written about. It can even generate product descriptions in different languages if needed!
Pricing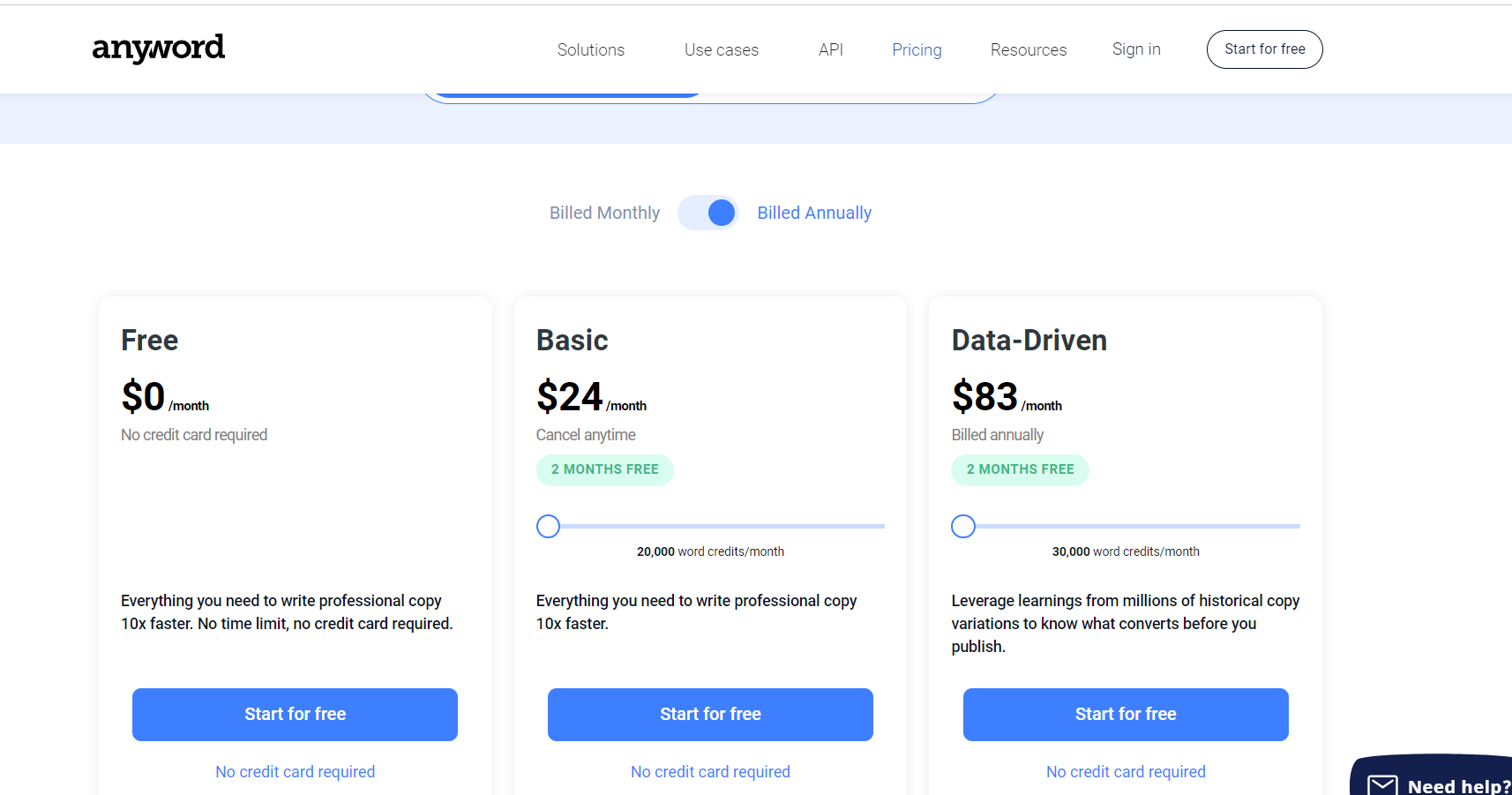 You can avail some features of Anyword for free. This must have tool pleases its users with a free plan along with two other paid plans. Once you are confident about the platform, you can choose either the Basic Plan or Data Driven Plan to add momentum to their content creation.
Free Plan
– 1,000 word credits per month
– 100+ AI writing tools​
– 200+ Data-driven copywriting tools
– Blog post wizard
– US English supported
– 1 seat
Basic Plan ($29/month and $24/month if paid annually)
– 20,000 word credits per month
– 100+ AI writing tools
– 200+ Data-driven copywriting tools
– Blog post wizard
– 30 languages
– 1 seat
Data-Driven Plan ($99/month and $83/month if paid annually)
– 30,000 word credits per month
– 100+ AI writing tools
– 200+ Data-driven copywriting tools
– Real-time predictive performance score and analytics
– Improve and boost scores for your own copy
– Blog post wizard
– 30 languages
– 1 seat
Get Started
Get started with Anyword with their forever free plan.
SPECIAL OFFER: Use code "Anyword20" with my link down below and get 20% off.
Pros & Cons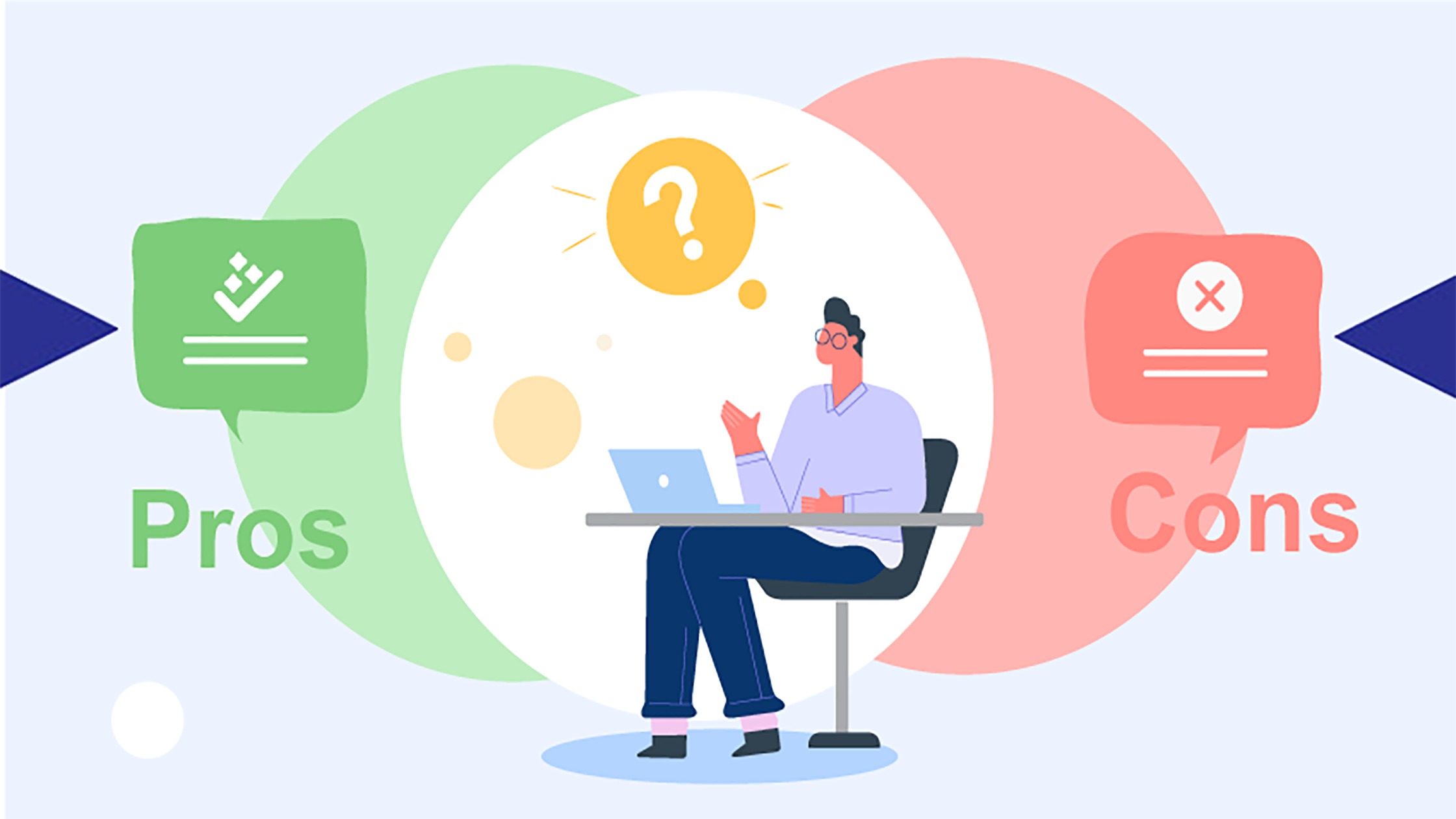 Pros
– Anyword copywriting tool can generate different types of content – from articles, blog posts, and social media posts to contents for infographics and videos.
– The tool can generate ideas for any type of topic or niche in 30 languages.
– Anyword AI copywriting tool is capable of generating millions of characters in a day.
– The generated content is 100% unique, so it won't get flagged as duplicate or plagiarized by Google or other search engines.
– The generated content is SEO-friendly, so it will rank higher on Google search results pages (SERPs).
– Anyword writing assistant can be used by both novice and experienced writers alike because it.
– The predictive performance scores give users the appropriate idea about how long the content has come.
Cons
– It is not able to generate content ideas that are highly creative and emotional.
– There is no custom planning option.
Conclusion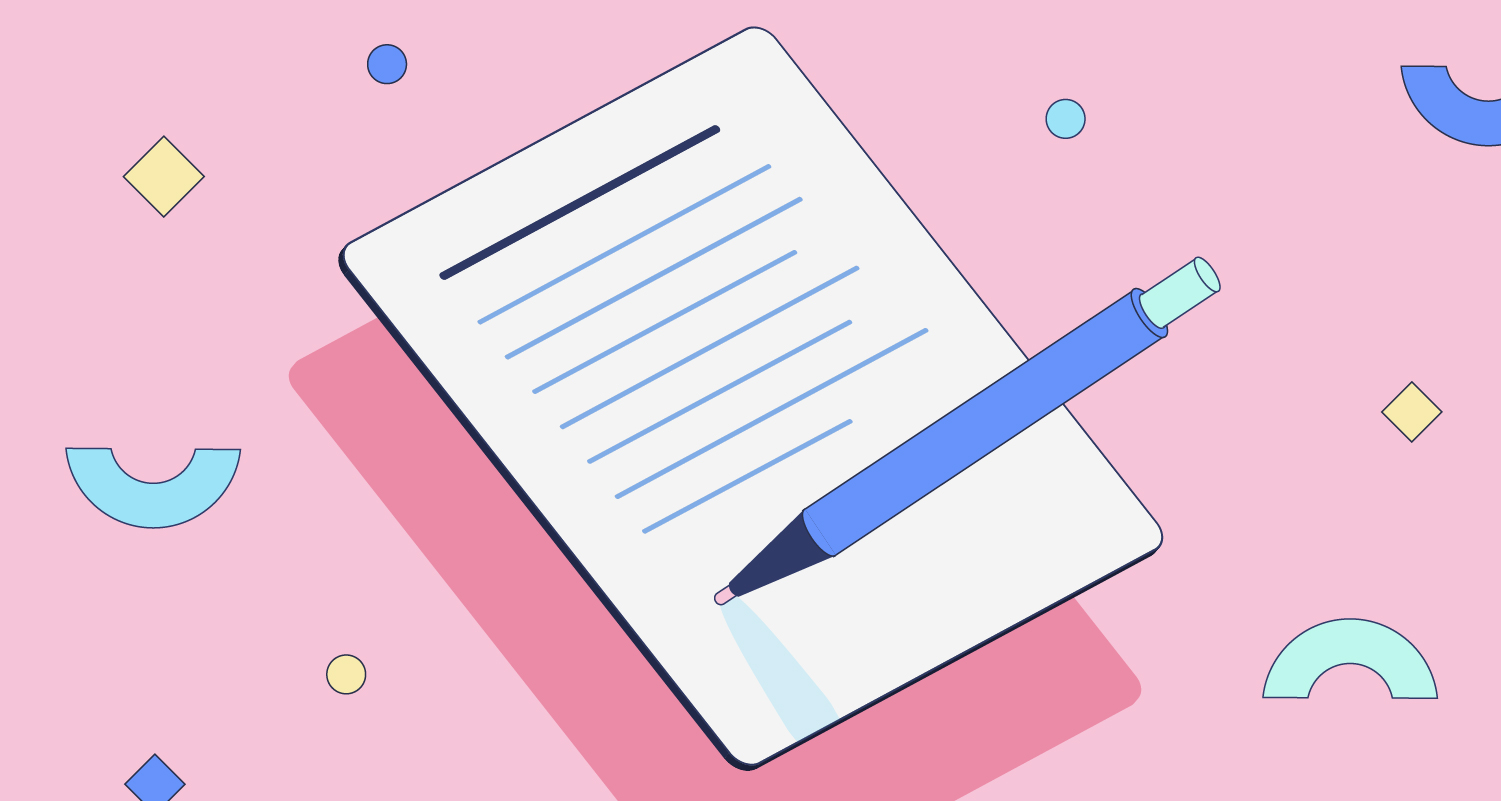 Anyword is an artificial intelligence writing software that helps copywriters to generate content. It can generate content for any topic or niche, and it does not require any human input. In addition, it has many use cases, including generating blog posts, articles, web pages and social media posts. It is best used by agencies and companies that need to create content on a large scale. Anyword provides assistance to the content writers by getting rid of writer's block and generating content ideas at scale. Sign up for an Anyword free account today!
Get started with Anyword with their forever free plan.
SPECIAL OFFER: Use code "Anyword20" with my link down below and get 20% off.
FAQ