Overview
Take your small business and entrepreneurship from local to global, not by relying on word of mouth but by the Moosend email marketing platform. Email campaigns are the best way to contact your subscribers. Seizing the moment, you can bulk convey your services, products, and discounts to your customers.
Moosend offers 70 email templates and resources for companies to stand out from the rest and increase traffic to their businesses. The Moosend marketing automation relieves you from the stress of sending promotional emails in small groups; instead, you can reach out to thousands of your users in no time.
Who is This Product For?
Moosend campaigns and templates are ideal for any firm looking to broaden the scope of its consumer base. If you want to try the Moosend email marketing platform, you do not have to commit to paid plans. The Moosend free plan is the perfect stepping stone into email marketing.
Returning Customers are the backbone of consistent growth and expansion of businesses. Thus, take your enterprise to the next level with this best free email marketing software. Send bulk emails and newsletters to captivate the masses and draw their attention toward business. Moosend, email marketing automation, is for all small and big companies.
The friendly and easy-to-navigate user interface has garnered many brewing conversations among small business owners. Email marketing reviews on Moosend v/s Mailchimp have highlighted Moonsend's many great features that are not available on Mailchimp.
Features
The list of Moosend features is long. Moosend has many impressive features, and it is an excellent platform for you to send emails to your clients. The software is free and easy to use, making it whopping for small companies. Moosend is an all-in-one email marketing software that pledges convenience and reachability to its core. The following is the list of Moosend features that have impressed many business owners.
A/B Testing
Subscribers do respond differently when you create emails with little difference. You can try out which email marketing tactic garners more response when applying A/B testing to your email campaign.
Create one type of email for your business and send it to a subset of your subscribers. Create a different kind of email (with variations) and send it to the other subgroup of subscribers on Moosend. The response data you get makes you more aware of the templates, tools, and features that work for the people.
Auto-Responders
Regardless of your subscription to any pricing plan on Moosend, you will get the auto-responder tool. It is a life-saver for your businesses as well as for your clients. A quick email in response to a query shows excellent professionalism and deliverability. Plan out an email on the email editor and let the auto-responder tool do its magic.
API Integrations

With API integrations, users can seamlessly use the features and data. Moosend is a marketing automation software that has a lot of API integrations. It can integrate with services like Google Analytics, Salesforce, and more.
Moosend can also integrate with other marketing tools such as Wistia, HubSpot, and LinkedIn. Moosend integrates with Stripe's payment system, which allows you to collect payments from your customers through Moosend.
Campaign Segmentation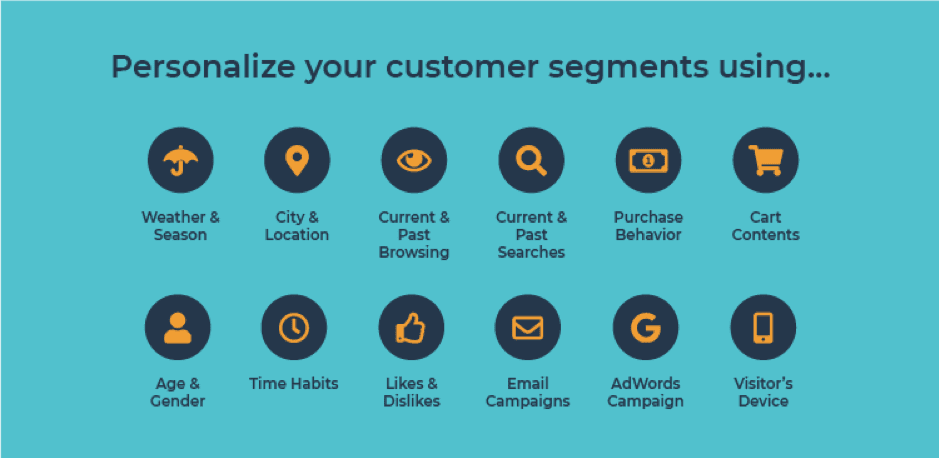 Segmenting your campaign is a crucial step in the email marketing process. It divides your audience into groups of people with similar interests, behaviors, or demographics.
You can offer the appropriate material to the appropriate person at the appropriate time and develop more tailored messages for each group with the aid of segmentation. The most common way to segment an email campaign is by creating lists of customers or subscribers.
Moosend has created some segments for you that are pre-defined and ready to use. You can also create elements using filters like email opens or last purchase date.
Campaign Scheduling
Campaign scheduling is a powerful feature in Moosend that allows you to create and send emails at the best time for your customers. It helps you save time by automatically sending emails and also allows you to optimize your email marketing strategy.
There are many ways campaign scheduling can be used, such as:
– Sending out a welcome email when someone subscribes to your list
– Sending out an email on their birthday
– Sending out an email before or after they make a purchase
Campaign Management
Campaign management is the process of planning and executing digital marketing campaigns. It is a crucial part of digital marketing as it helps to organize all aspects of a campaign.
Campaign management tools are used by marketers, digital marketers, and advertisers to manage all the aspects of their campaigns. These tools help them to organize their campaigns efficiently and effectively.
Moosend offers a campaign management system that allows you hassle-free manage your email marketing campaigns.
Tracking
Moosend is a software that has a variety of features for email marketing. One of the features is tracking. Tracking in Moosend lets, you know who opened your email, clicked on it, and did not open it. This information is helpful because you can use it to customize your email marketing strategy depending on what sort of audience you have.
Tracking in Moosend also helps you know which emails are more successful than others so that you can send similar emails in the future. It saves time and money because you do not need to send all sorts of emails out into the world, only those that work best for your audience.
Lead Generation
Lead generation has become an integral part of any business today. It assists in creating a strong consumer base and bringing in money through sales. It is also the touch point between potential clients and the company they are interested in.
Lead generation in Moosend email marketing software is a powerful tool that helps you generate leads and increase customer engagement.
Moosend can help you reach out to subscribers by sending them personalized emails. You can also use it for prospecting and generating new contacts for your business.
Reporting and Analytics
The reporting and analytics features are a hit among users. Each data, number, and figure will reveal how your marketing is performing. Many platforms in the market hardly offer such a feature.
Moosend has taken every user off its feet by providing custom data and critical analytics. Why rely on limited reports of other platforms when Moosend features a top-notch real-time progression and facilities:
– Recipient Analysis
– Device Tracking
– Export to PDF
Customizable Templates, Fields, and Branding
Moonsend is a software that helps businesses and organizations send personalized emails to subscribers. It is built on the idea that emails are not just about sending marketing messages but also about building strong consumer relationships.
Customizable templates, fields, and branding allow you to personalize the emails in the most meaningful way for your business. You may rearrange and adjust your data as needed, as well as select from a number of Moonsend themes or upload your own.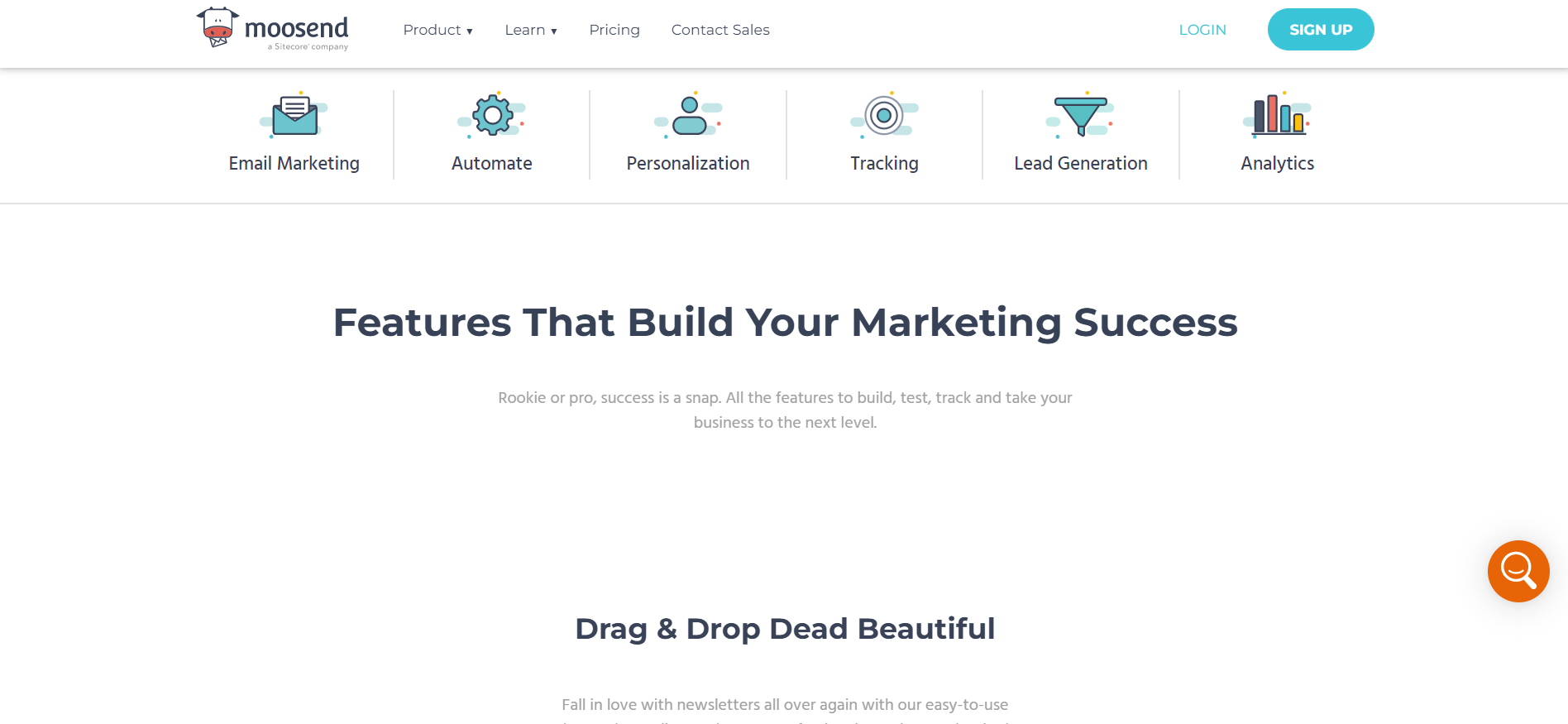 Pricing
The Moosend pricing does not have a rigid framework. As a user, you can customize the plan based on your subscriber range and monthly or annual subscription. If you pay yearly, the monthly cost is $7 (Pro plan), whereas, on monthly payments, it is $9.
Depending on the number of subscribers, you can decrease or increase the payments. Moosend suffices the business needs of all shapes and sizes. If you run a vast enterprise or a small one, Moosend has got you covered. Check out the Pricing tab Moosend and customize the plans according to the number of customers your business engages with.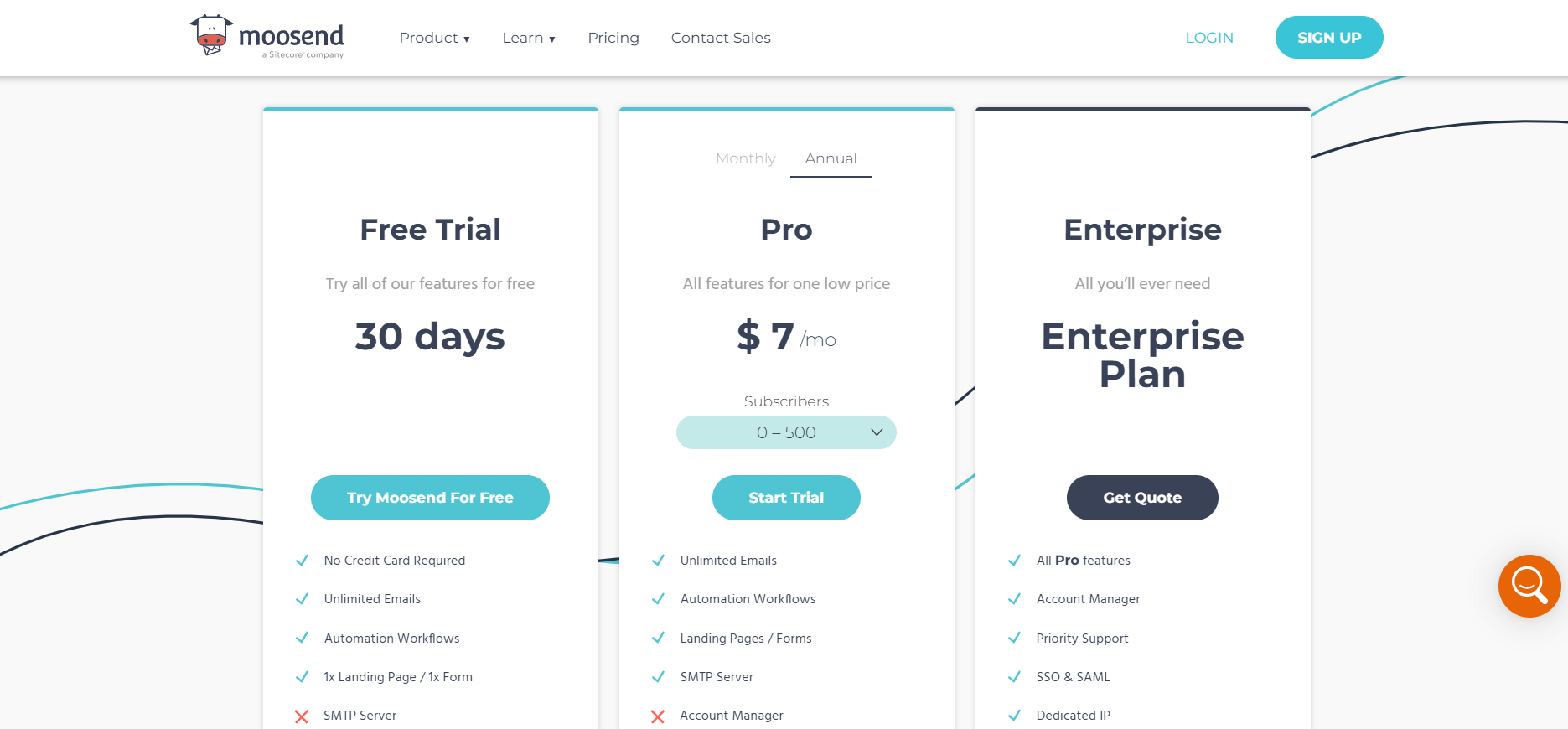 Free Plan (Valid for 30 days)
– No Credit Card is Required
– Automation Workflows
– Unlimited Emails
– 1x Landing Page / 1x Form
Pro Plan (Pricing starts from $ 9/month)
– Unlimited Emails
– Automation Workflows
– Landing Pages / Forms
– SMTP Server
Pro Plan (Pricing starts from $ 9/month)
– Unlimited Emails
– Automation Workflows
– Landing Pages / Forms
– SMTP Server
Enterprise Plan (Get a Quote from the Moosend Team)
– Unlimited Emails
– Automation Workflows
– Landing Pages / Forms
– SMTP Server
– Account Manager
– Priority Support
– SSO & SAML
– Dedicated IP
Key Differences Between Plans
– SMTP Server is available only in Pro and Enterprise plans.
– A dedicated account manager is available only in the Enterprise plan.
– Customer service is present in all three plans. However, the Enterprise plan serves priority service.
Get Started
Get started with Moosend for free.
Pros & Cons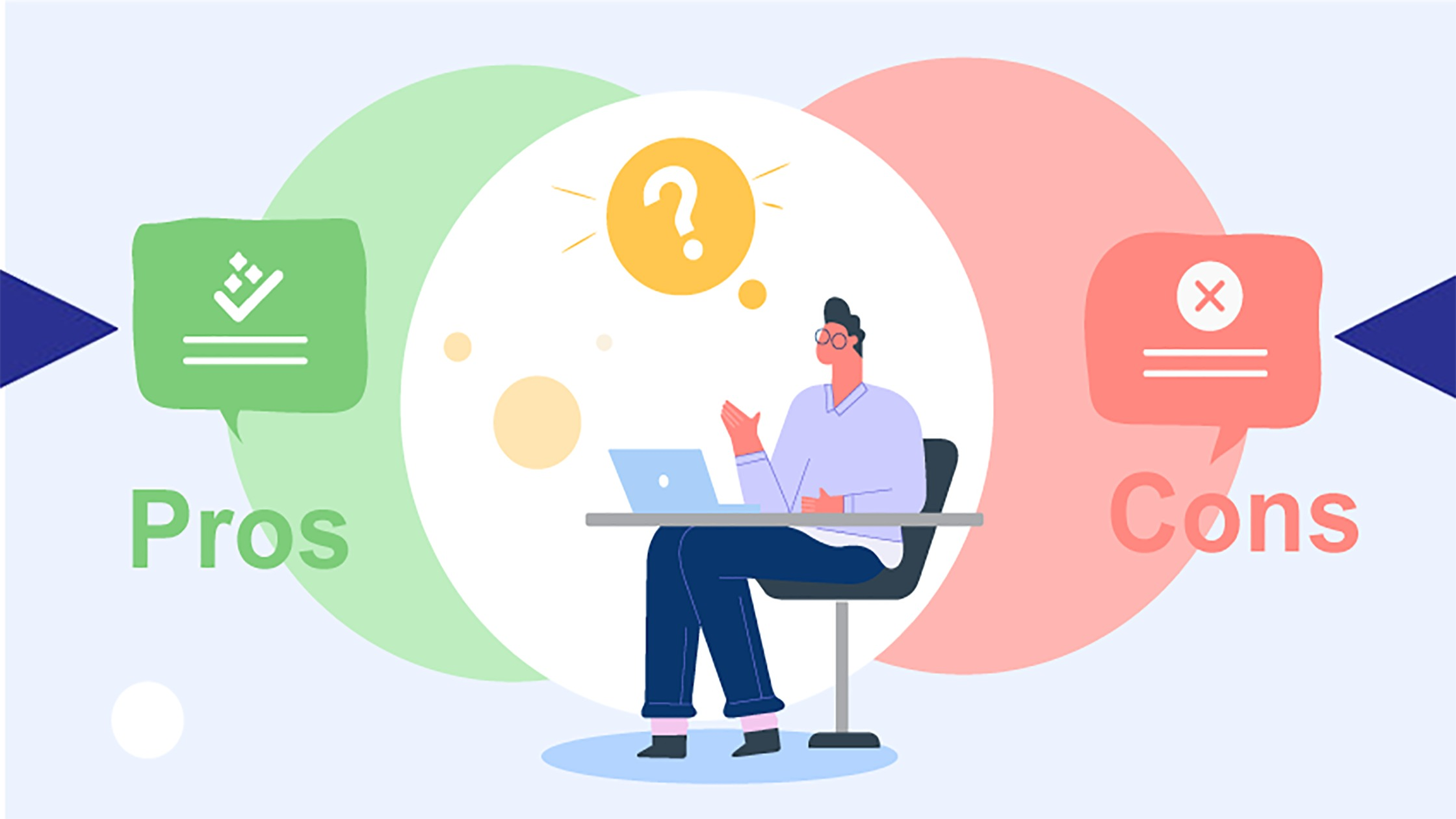 Pros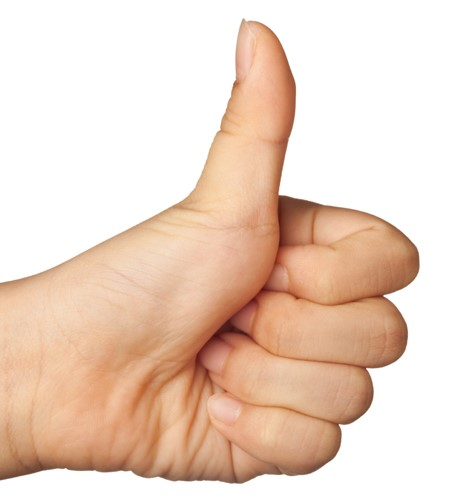 – Moosend marketing automation manages various mailing lists, email campaigns, newsletters, and more.
– Moosend offers the best online form builder tools. Businesses can easily create custom forms and also access the templates
– The deliverability of any Moosend email campaign does not falter. The Moosend system has the tracking feature to know the response of clients.
– Moosend's integrations and categories create value for businesses. Each API integration provides critical data that is the key to a better user experience.
Moosend has powerful real-time analytics and a user-friendly interface for an outstanding user experience.
Cons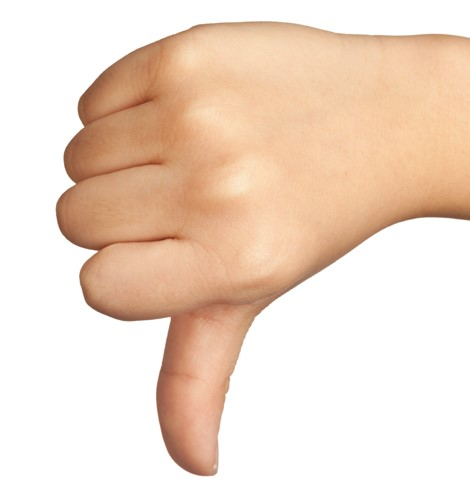 – Moosend's integrations are limited to third-party systems.
– Priority customer support is available only on the Enterprise package. The free and pro plans only have five days a week of customer support.
– The list of templates is not more than 70.
Conclusion

Moosend is marketing automation and email marketing platform for small businesses and huge enterprises. It is designed to help companies grow their client base, increase sales and improve client retention rates. People are flocking to the Moosend website to start their hassle-free email campaigns. Keeping both small businesses and huge enterprises in mind, Moosend does not serve strict pricing plans. Users can easily customize the plans depending on their needs.
Moosend has a lot of features that can be helpful in everyday life of a small business owner. Making automatic emails that deliver personalized messages based on specified parameters is one such function. These automated campaigns are great for sending out newsletters or announcing new products. The software also allows you to schedule your emails. Hence, they go out at specific times, which can be helpful if you want to send your clients emails while they are most likely checking their inboxes. In addition, Moosend lets you create templates for your emails so that you don't have to create them from scratch. Try out the Moosend today and create professional content!
Get started with Moosend for free.
Alternatives
[Blank]
Frequently Asked Questions (FAQs)

Can I drag and drop various content categories into Moosend email marketing automation templates?
The drag-and-drop editor for emails is one of the best features on the Moosend website. The software is committed to putting customers as its first priority. The drag-and-drop feature of Moosend users to create professional emails from the ready-to-use templates. You can try out the free plan today!
Does Moosend feature customer support through email, phone, and live chat?
Yes, customer support includes helpful email support, phone support, and live chat. However, the availability depends on the pricing you choose for your business. Customers/subscribers who opted for the pro subscription or free plan do not get a priority solution throughout the week.
Is the salesforce knowledge base API available on the Moosend system?
Unlike many other automation platforms, Moosend offers a salesforce knowledge base. You will have access to knowledgeable and practical software information as a subscriber. The knowledge base for subscribers includes online courses on data, tools, forms, an email editor, and analytics.
Can I avail the Moosend subscription for free?
It would not cost a penny when availing the templates, integrations, tools, analytics, and other features on Moosend's website. Anytime you sign up, you immediately have access to your free plan account.
Is Moosend for big companies?
100% Moosend provides exclusive facilities that can be blended into the size of a big enterprise. If you choose the Enterprise plan, you can ask for a quote from the Moosend team, who will be more than happy to lay down the pricing according to your enterprise's demands.
What is the key feature of Moosend?
All the Moosend features are great and valuable for marketing.