Overview
What is SendPulse?
SendPulse multi-channel marketing platform provides multiple ways to set up marketing campaigns. Marketers and business owners can create mobile-friendly emails, send marketing campaigns, use CRM automation 360, update Facebook chatbots, and broaden marketing activities. Compared to other email marketing alternatives, Sendpulse email marketing platform has a more user-friendly interface. With more functionality, more courses, and more features, every user is making cost benefits.
The basic SendPulse features come with a starting price of zero. You can build campaigns with the help of a very easy-to-use tool and drag-and-drop Editor tool. SendPulse academy has courses for its users. You do not have to be a pro in building email campaigns, marketing automation, web push SMS marketing, or web push notifications.
The customizable email templates and additional features are made to support even beginners. It is significant for small businesses to get the free plan and send 15,000 emails per month. SendPulse platform also has prepaid email packages and customizable feature pricing for unlimited emails, detailed reports, SMTP service, landing pages, and additional channels.
Who is this Product for?
SendPulse offers marketing automation at an affordable price with great deliverability. The premium plan pricing is $6.40/month annually and $8 for a monthly subscription. Compared to SendPulse alternatives, it is a better price. Your marketing strategy and customer data shine through the email templates. In additional features, the Pay as you go lets you pay per email and is valid for 12 months.
Choosing SendPulse email marketing automation is best for all small start-ups to large enterprises. Users with zero design experience create mobile-friendly emails, transactional emails, web push notifications, trigger-based emails, and more in one platform with the drag-and-drop Editor. Sending unlimited emails with great deliverability is possible on the Sendpulse platform. Your employees will get the ease of use, and your subscribers will get quick responses. You can customize each email campaign and push your brand value.
Features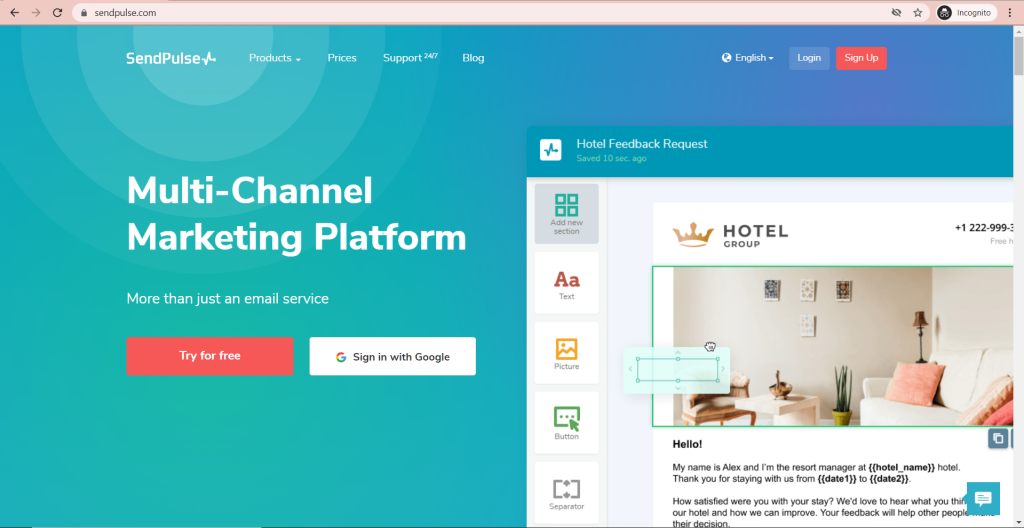 Email Campaigns
SendPulse features the best email marketing campaigns for both large enterprises and small businesses. You can send emails to your subscribers and customers hassle-free without too many problems.
The drag-and-drop Editor is a great tool. It makes unlimited email marketing possible anytime. Once you start your email campaign, you will soon realize that choosing SendPulse was the right decision. At an affordable price, Sendpulse offers prepaid email packages, transactional emails, analytics, and more.
The following are the email marketing features to boost your email campaigns.
– Drag and drop Editor
– Subscription Forms
– Automation Flow
– Transactional Emails
– Campaigns Analytics
– Email Verifier
CRM automation
Automated emails are for keeping your audience hooked on your services and products. Communicating with your customers at the right time is essential. Thus, CRM (Customer Relationship Management) is your one-stop solution. CRM is a process for managing and analyzing customer data to better understand their needs and wants. It is a way to improve the customer experience by enabling companies to tailor products and services to meet the needs of individual customers.
You can simply add the contact list of your customers/clients and let CRM functionality do its job. For marketers and business owners, this tool brings a lot of convenience and efficiency to marketing. The customer data detailed reports from purchases will help you to increase your customer list further. Insights from your sites will be a significant path for profit.
Landing Pages
A landing page is a web page that appears in response to clicking on a search engine result or advertisement. It may also be referred to as a lead capture page or lead capture form. The purpose of the landing page is to deliver the visitor content that will meet their needs, typically in the form of an offer, and encourage them to take action. It may as simple as completing an online contact form.
SendPulse landing page builder is a great tool for your website. Users can easily set up their landing pages and grow their businesses through the fetched contacts. The landing page builder is all about sharing your links to your customers, using eye-catching widgets, and amping up social media in all the ways possible.
Chatbots
Now, you do not need to pay your employees to resolve the queries of your customers. The work of a live rep is done through chatbots. The following are the chatbot options you will get on SendPulse.
– Facebook Chatbots
– Instagram Chatbots
– Whatsapp chatbots
– Telegram Chatbots
– Chatbot Applications
Chatbots are becoming more popular in marketing. They are used to answer customer queries, provide customer service, and market products. They can be used to create a dialogue with the customers and help them make decisions.
Customers often prefer chatbots over humans because they don't have to wait for a response. In return, they get solutions instantly. Chatbots also have the advantage of being available 24/7, which is impossible with human customer service agents.
SMS marketing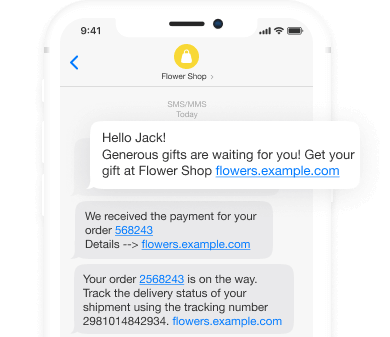 If you think that SMS messages are old-school, they can be a source for your marketing automation. These days marketers are using text messages (SMS) as a marketing tool to reach out to their customers. Text messages (SMS) are one of the most popular ways to communicate with customers. The benefits of SMS marketing are numerous, including:
– Low cost and high return on investment
– Reaching customers who have opted in
– Personalized customer engagement
Sending marketing messages becomes easy with SendPulse. You can send messages in bulk to all your customers and possibly build campaigns that pull up lucrative messages. In more than 200 countries, you can send messages. Increase the response times with SMS marketing resources.
Web Push notifications
A web push notification is a notification that pops up on a user's screen on their web browser. This notification can be triggered by any number of events, including the user visiting a particular website, clicking on an advertisement, or opting in to receive notifications.
There are many use cases for web push notifications:
Inform customers about new products and services they may be interested in.
Remind customers about the purchases, like an order confirmation or delivery notification.
Send out a survey to your customer base with the help of web push notifications.
The following are the features present in SendPulse web push notifications.
– Easy to set up
– Offline notifications
– Personalization
– Segmentation
– API for developers
– Website monetization
Online Course Creator
SendPulse allows you to create and publish your own online courses without any coding knowledge. SendPulse offers a clean interface that enables you to easily create content for your online course. You can use SendPulse as a platform to teach your own skills or anything else you want.
You can share your valuable experience with the world and sell your online courses. If you are eager to teach and want your skills to be echoed, SendPulse is a versatile platform. You can monetize your online courses and let your knowledge speak more than the jargon of technicality. On SendPulse, you can conduct online courses from start to finish in a comprehensive manner.
Pricing
The SendPulse pricing starts at $0/month. The Standard Plan starts at $6.40/month, while the Pro Plan starts at $7.68/month. They also offer an Enterprise plan for $10.75/month. Moreover, if you have more than 5 million subscribers, the VIP Plan is the one for you. If you are interested in the plan, you need to contact SendPulse at the following.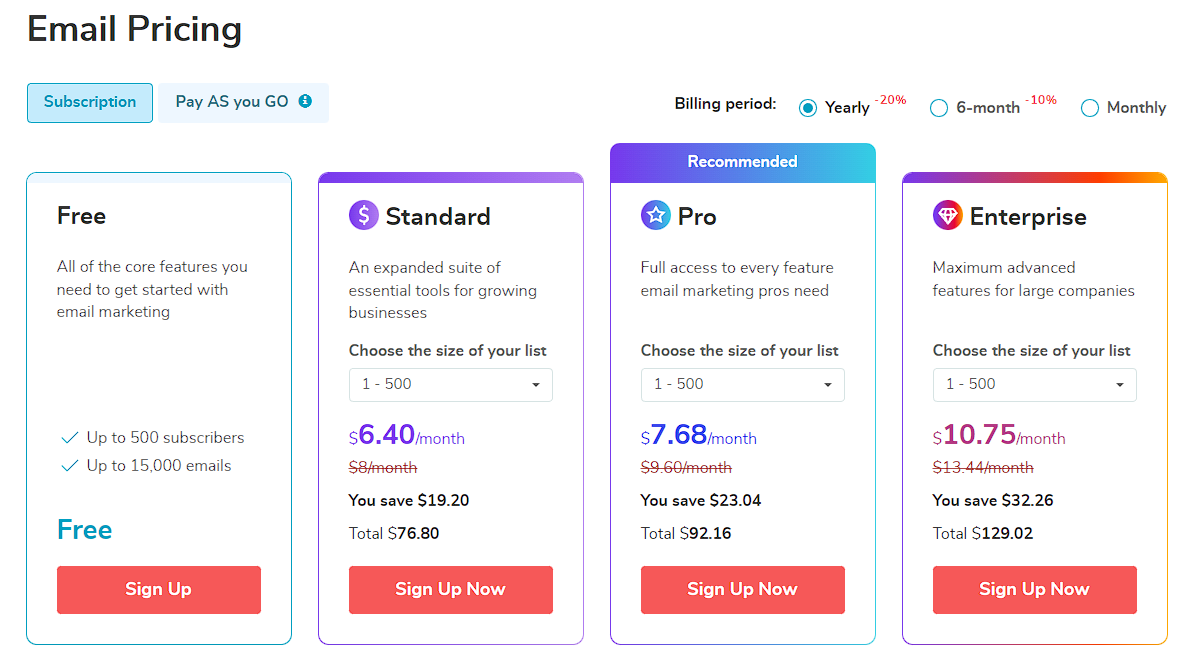 Free Plan
– up to 15,000 emails
– 3 addresses, 1 domain
– 1 landing page
– 5 flows, 1 event
– 100 МB
– No segment saving
– 100 verifications per month
Standard
– unlimited emails
– 3 Inviting users to your account
– 100 addresses, 3 domains
– 3 landing pages
– 10 flows, 10 events
– 200 МB
– 5 saved segments
– 100 verifications per month
– Full email testing
Pro
– unlimited emails
– 10 Inviting users to your account
– 300 addresses, 5 domains
– unlimited tags
– 10 landing pages
– 50 flows, 50 events
– 500 МB
– unlimited segmentation
– 1000 verifications per month
– Full email testing
Enterprise
– unlimited email
– unlimited inviting users to your account
– 300 addresses, infinite domains
– unlimited tags
– unlimited landing pages
– unlimited automation
– 5 GB image storage
– unlimited segmentation
– Email address verifier depends on the plan size
– Full email testing
Get Started
Get started with SendPulse for free.
Pros & Cons
Pros
– SendPulse provides Pay as you go payment option where users can pay for a bunch of emails. The emails are valid for 12 months, and it truly helps entrepreneurs with low-budget marketing to get started with promotions.
– The different integrations with Zapier, CreateForm, WooCommerce, Typeform, WordPress, JotForm, GoToWebinar, Shopify, HubSpot, Slack, PayPal, and more on SendPulse make the complicated eCommerce deals easy.
– Ready-to-customize templates on Sendpulse help beginners build campaigns within a few seconds. You can simplify the structure of the emails and add the uniqueness of your brand. SendPulse has an inbuilt template library where you can find templates for various events or occasions like new product launches, birthdays, anniversaries, holiday seasons, etc. You can create your own templates and use them in future campaigns with just a few clicks.
– SendPulse offers a wide range of features for users. It is a cloud-based software that can be accessed from anywhere on the web and from any device. The platform is built on the idea of automation and many elements that can help you automate your marketing campaigns.
– SendPulse is an email marketing platform known for its easy-to-use and intuitive interface. It can helps you to easily create, send, and track your campaigns. The analytics and reports help you understand the different actions of your customers, and you will eventually be able to increase your profits.
Cons
– More functionalities in automation are still expected by users. As it is a multi-channel marketing platform, thus users demand more features to be implemented.
– The SendPulse resources need to be more versatile for beginners to grasp marketing. SendPulse lacks proper material for its users.
– There is no live customer support on SendPulse. At times users need to wait for replies to their queries.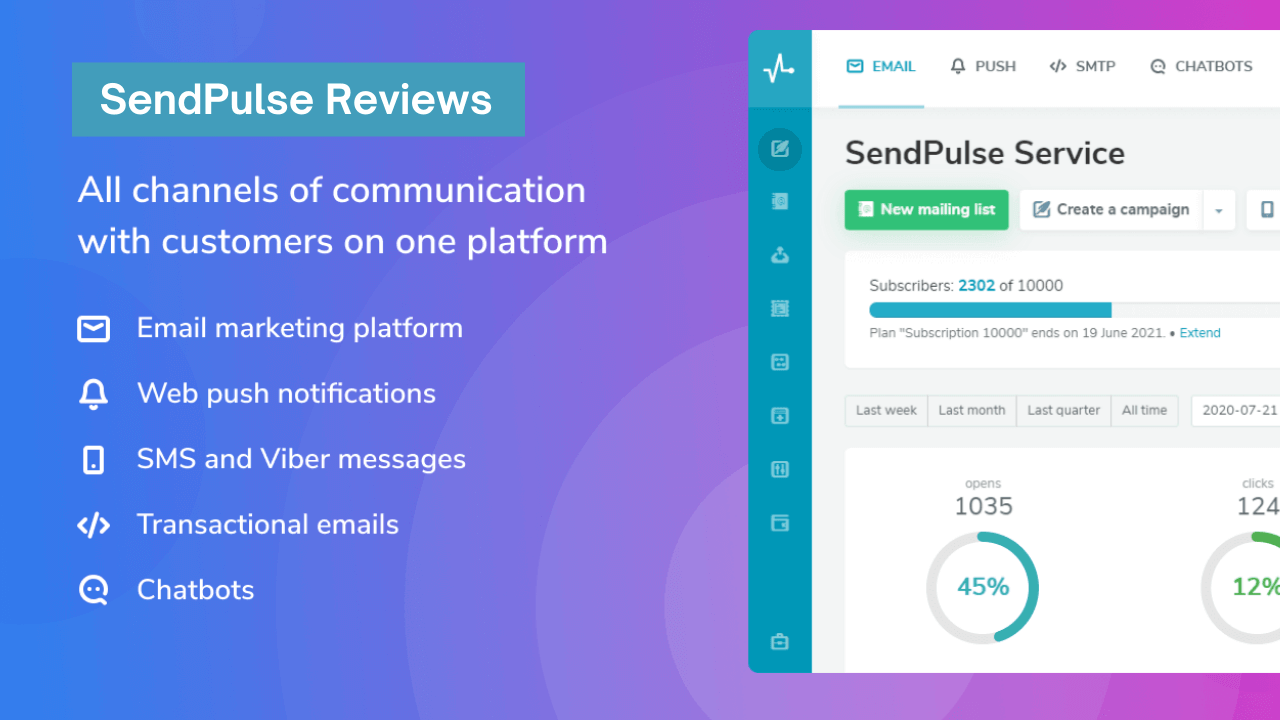 Conclusion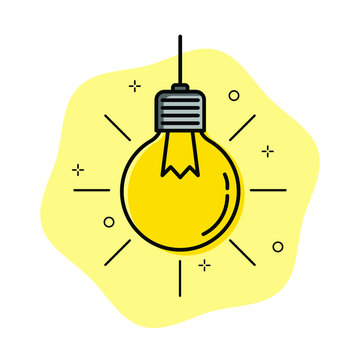 Sendpulse is an email marketing and automation software that lets marketers create, send and track emails. SendPulse features automated email templates, in-depth analytics reports, and a drag-and-drop editor. In addition, it is a cloud-based email marketing software that helps marketers with their email campaigns. Moreover, it offers many integrations with other popular services. Sendpulse is one of the top 10 most popular email marketing tools today.
It has a clean interface that is easy to use. Sendpulse has been designed to be suitable for individuals, agencies, and businesses in various industries. There are many advantages of SendPulse. First, Sendpulse is free to use. This means that it won't cost you anything to try this platform out and see if it works for your business. Second, Sendpulse has a lot of templates and pre-made content available to use in your marketing campaigns. This can save you time and money in the long run because you don't have to spend time creating these from scratch. Third, Sendpulse is a mobile-friendly platform which means you can access it from any device with an internet connection – even your phone!
Get started with SendPulse for free.
FAQ